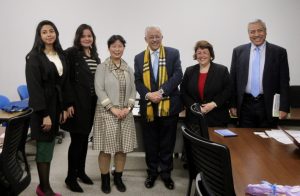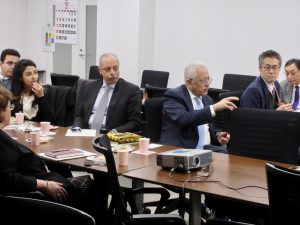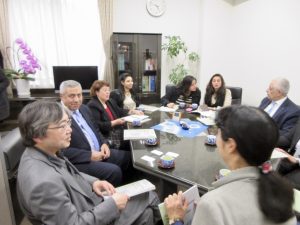 On Tuesday, February 27th in 2018, the Minister of Education, H.E. Dr. Tarek Shawky, Embassy of Egypt in Japan, and five other executives from the Ministry of Education and Technical Education of Egypt, and three officials from Japan International Cooperation Agency (JICA) visited the Graduate School of Education of the University of Tokyo. Professor Hiroshi Sugita from Kokugakuin University and Egyptian Project of JICA was accompanied by them since his lecture and the meeting was on the previous day.
Professor Tsuneyoshi gave a lecture, "Tokkatsu ― Holistic Education Model As Japan Style." The lecture suggested that tokkatsu is not elitists but its style is rather bottom-up. In this model, cleaning classrooms and homeroom meetings etc. are not isolated, but means a holistic whole in which students make their own decisions through the actions. The lecture included examples of students supporting each other through the experience of stayover excursions, and collaboration during natural disaster, helping elementary school pupils in a nearby school and adults in the neighborhood.
The attendants of the lecture, including the Minister of Education of Egypt, asked questions about the tokkatsu model. They identified what might be difficult to help parents in Egypt understand holistic education in which schools teach students non-cognitive factors, but they wanted to know the first step to start. They asked Professor Tsuneyoshi questions about ways and measures for teacher training for tokkatsu. They were all eager to introduce the Japanese holistic style of education to their own country and to try to find the clue to improve their own style.
OCHI, Yutaka
Special Appointed Associate Professor at Center for Advanced School Education
and Evidence-based Research, Graduate School of Education of the University of Tokyo